View Profile - cats17 (cats17)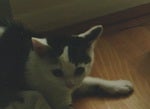 cats17
Newbie

Send Message
Username:
cats17
Last Online:
Sept 2, 2017 17:07:42 GMT
Give this member the gift of ProBoards+
Purchase ProBoards+
Badges this member wants!

Gift
Shoutbox
Chat in real time!
caz2golden
:
On walk today saw a dead branch hanging from a tree over a road. Probably been there a while but have not noticed before! Who do you report it too, tree would be owned by whoever has the field but the branch is over highway?
Sept 5, 2017 20:21:08 GMT