Post by Pawsforthought on Dec 9, 2017 11:45:03 GMT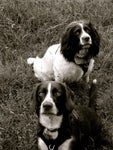 If it is tummy related, you could try giving her a small bit of mashed sweet potato, or even better some slippery elm if you have any. I would be inclined to give her some in her food for a time just in case she is feeling unwell. We give it to our two as soon as they show signs of upset tummies and it stops them from getting any worse pretty much every time.
If you can't see anything obvious in her mouth causing it and are worried about it being a new behaviour, it could be worth speaking to a vet about it. I wouldn't worry too much though; both of ours air lick for different reasons!
Ellie often wants to eat grass if she's feeling unwell too - well, not often like every week or anything - but this was different. She's not done it since that night though, so I think it must have been linked to her chewing the antler. My dad took her out so that she could eat some grass and she was much better when she came back in. It was just inconvenient that she wanted to go out at nearly midnight when it was freezing cold! Not the ideal weather for standing outside for god knows how long while she eats her fill of grass.
I keep trying to think of ways to grow some of that grass in a pot in the garden but I don't know where to get some seeds for it. My dad thinks I should go and dig a clump of it out of the ground, but if I do that it's not likely to grow back once she's eaten it, is it?
Find some couch grass, chop it right down to the ground (or choose an eaten bit!) and dig up the roots, pot them on with some of your soil into a pot to bring inside. It will absolutely grow back. Trust me, couch grass grows back :L