Post by orpheous87 on Sept 9, 2018 19:13:33 GMT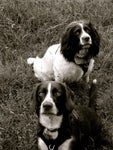 milliepup04
So sorry you've been having more problems with Rumple, although I was very glad to read your facebook post today! If he does slip again, would you consider a Skype call with Devon Dogs? They can cover the NBN behaviours you're seeing in a 1 hour lesson over Skype which would cost you £50. I know it may not be the same as having them there with you, but it may be a cheaper way of getting some advice and training. Hopefully he's turned a corner and you won't need it, but it could be worth a shot if the behaviourists that you've seen already haven't been able to help.
I'm not sure of what else you could try without the help of a professional if his behaviour is that bad. You could, perhaps, try a gated community in the house. Get a puppy pen to keep him in for some of the time so that he can't have a go at Millie or go for your grandad/any other visitors. Then you can reward him for staying calm - just walk past and drop a treat in without saying anything to him. At first he'll probably jump up and expect more, but the more you do it, the quicker he'll relax again. And a puppy pen is a bit kinder than a crate as he'll have a bit more freedom.
Thank you! I didn't know about the Skype call with them. I'd definitely give it a go if he starts going back downhill again.
Thats is also a good idea, thanks! I couldn't really use a gate as it would be a tripping hazard for my mum, but maybe a puppy pen would work. Thank you, really appreciate your suggestions!
I always forget that they do them, but I was looking for something else on their website and saw it mentioned. It's certainly something to consider anyway!
No, gates are only really any use if everyone is able to navigate them safely. A puppy pen is something that could keep him in one area, especially if you're busy and can't keep a proper eye on him. Give him a nice chew and he'll soon settle, I'm sure.